Are you afraid of the Asian railway? Then this is for you. Hitachi Rail, a Japanese company present in Italy and Great Britain, delivered a rather new suburban train for a local network in Tokyo. An inspiration for future European trains? Let's dream…
The new train « Laview », Class Seibu 001( 西武 001 ), is a Emu operated by Seibu Railway's private operator on express services in the Tokyo area since March 2019. Seven Laviews Emus are ordered. In 2019, they gradually replaced the fleet of Seibu Class 10000 « New Red Arrow » railcars, built by Hitachi between 1993 and 2003 and used for the Limited Express services of the Seibu – Ikebukuro and Seibu – Chichibu lines.
This train has the particularity of having been designed by a designer, Kazuyo Sejima, winner of a Pritzker Prize. It is especially the interior that impresses with his daring choices. The name "Laview" was announced last October and was explained then as "L" for luxury, "a" for arrow-like speed, and "view" because of the train's extra-large windows. It is indeed equipped with giant windows to take advantage of panoramic views of the line where it runs. Its interior design has even earned a page on Dezeen website.
Kazuyo Sejima, who designed both the exterior and the interior of trains, wanted to create an environment that attracted passengers and where they feel like in the living room of their home rather than in public transport, with sofa-style seating, dim lighting and large panoramic windows. « I wanted to make a train that feels like a living room where passengers can freely relax and feel motivated to ride the train every day. », she explains. According operator Seibu Railway, while the train moves through the Tokyo to the mountains of Chichibu, the Laview must « to be able to respond and blend into the surroundings in a soft way ». Each train has height cars for a total capacity of 422 seats, and each window is a large panoramic square of 1.35 meters by 1.58. The bottom of the window is at low height of the platforms, which is unheard of for this type of train.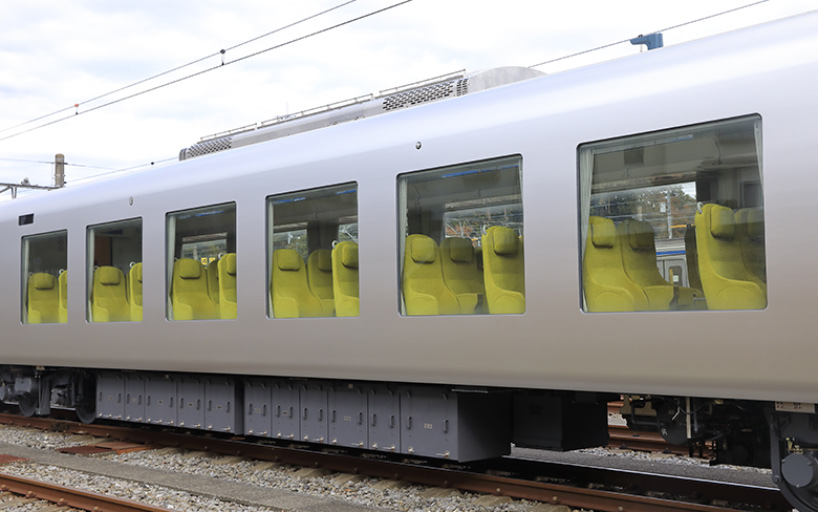 The entrance to each carriage is designed in warm yellow tones with an artificial marble floor. Lighting in the carriages is deliberately soft and indirect from the train's vaulted ceiling. Sejima collaborated with Shozo Toyohisa on the lighting, which adjusts throughout the day to create the most relaxing atmosphere depending on the time of day.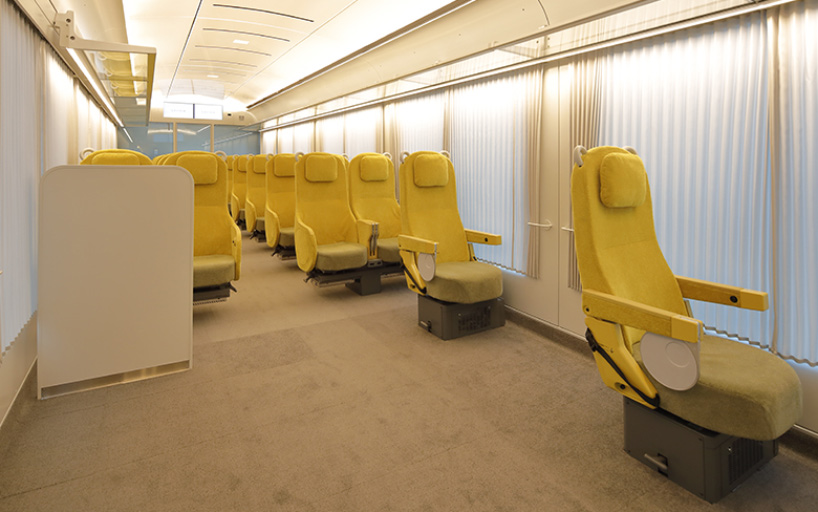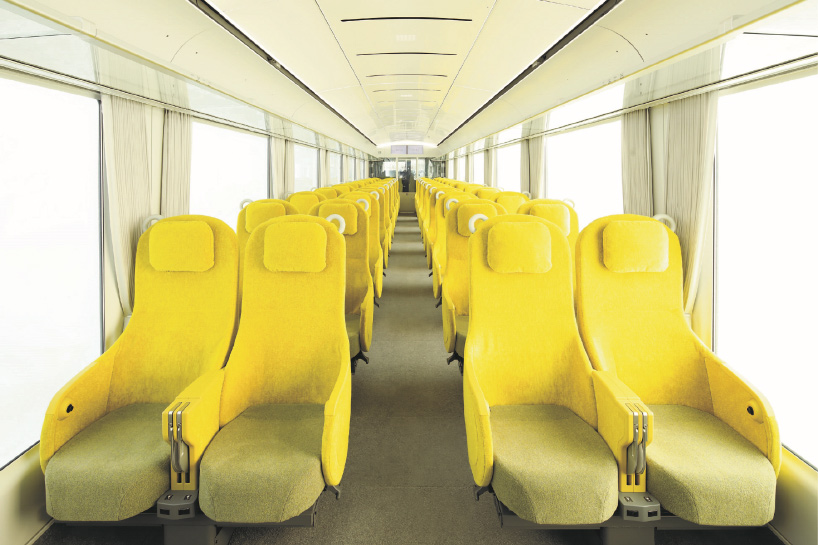 The soft yellow seats are arranged in a space with large windows and white walls. The sofa type seats have a shape that conforms to the body and are equipped with an adjustable headrest and an armrest that also serves as a little table. The use of the yellow color continues in the entrance / exit vestibule, where part of the wall is curved. Free Wi-Fi is available in each car, while large 23-inch video screens display information in four languages: Japanese, English, Korean and Mandarin.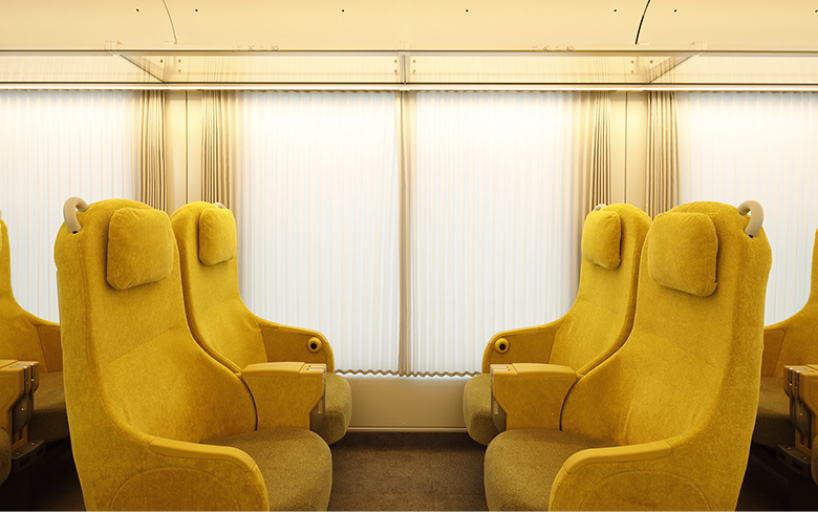 Improved on-board amenities include a spacious multi-functional restroom, which includes baby changing facilities, and a women-only restroom equipped with a full-length mirror. Meanwhile, a powder room offers dressing and magnifying mirrors, a hand dryer, and electrical outlets.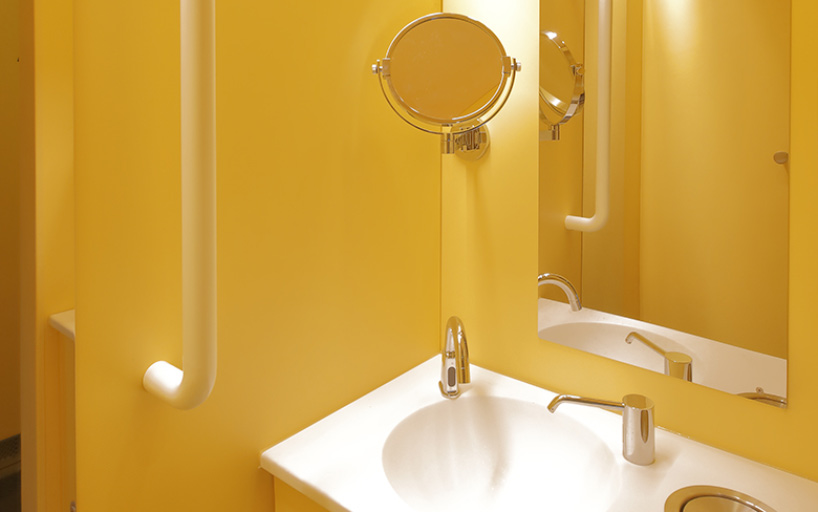 As initial images show the new train has a rounded top, and the curved glass of its front window gives it a unique 3D appearance. « We had the most trouble reconciling design and technology on body paint, » explains Yasunori Tanii, engineer at Hitachi Rail. The aluminum exterior is usually left visible on regular commuter trains. But Sejima wanted the Laview to faintly reflect its surroundings. After testing several hundred different options, the train was coated in a paint produced by Dai Nippon Toryo for tire rims.
The come-back of the design in railways
Japan's railways are introducing a slew of new models conceived by world-renowned designers, merging groundbreaking concepts with cutting-edge technology to create trains the country has never been seen before. And also not in Europe nor in America.
Companies are seeking new ways to add value as the competition move beyond speed or transportation capacity. These operators are now looking to offer a « travel experience » to passengers. At the beginning reserved for the main line segment, the travel experience now seems to go to the level of the regional and local segment in Japan. Since launching in March, Seibu Railway's Laview has already won many fans with its uniquely round front window and silver exterior. Daily occupancy rates for Seibu's express trains have surged 60% to 70% on the year on weekends and 30% to 40% on weekdays as passengers clamor for a ride on the new train.
The Seibu Railway explains the choice of architect Kazuyo Sejima, among several hundred candidates. « One of the reasons we chose her was that she had no experience overseeing train design », said Katsuya Ushitsuka, head of Seibu's vehicle department. Like many other companies, Seibu Railway was convinced that it was necessary to bring ideas from outside to design a disruptive train.
>>> See also the Shiki-Shima, a luxury cruise train for only 34 people (post in french)
This unique piece of glass was produced by AGC, formerly known as Asahi Glass, by heating a regular flat pane into the consistency of a thick syrup. Different parts of the curve were heated to different temperatures in a highly technical process to achieve a smooth finish. The window required special windshield wipers as well. No Japanese products fit the bill, so Hitachi, which was responsible for building the train cars, tapped its European subsidiaries gained through an Italian acquisition. « We even went to France », said Naoji Ueki at Hitachi's Kasado Works, where the cars were made.
Japan's renewed focus on design has drawn international recognition, and the resulting trains have gripped not only railway fans but fans of the designers involved as well. With Japan set to host high-profile events in coming years, from the Rugby World Cup in September to the Tokyo Olympics next year, these new trains could also help serve as showrooms for its manufacturers.