01/2023 to 06/2023
By Frédéric de Kemmeter, Railway policy observer – Freelance railway contributing writer – Suscribe my blog
🟧 Back to homepage 🟧 See our brief news
See our other pages: 2021-2022/1 – 2022/2
Germany

DB exercises an option and buys 56 additional Talgo trains – 19/05/2023 – The German rail operator, which has been loyal to its national supplier Siemens for decades, has signed a contract with Talgo for the class of Intercity trains that will run on certain non-electrified lines. The national operator has in fact exercised a €1.4 billion option for Talgo to supply 56 additional ICE L trainsets, and a €0.6 billion option for a further 17 Siemens Mobility ICE3neo trainsets.
100 Talgo trainsets – Deutsche Bahn, it will be recalled, had already placed an order for Talgo's trainsets under the framework contract signed in 2019 for up to 100 trainsets. The first firm order was for 23 trainsets. The current order brings the fleet to 79 trainsets. In announcing the orders on 17 May, DB said the average age of its ICE and Intercity trains would fall from 18 years today to 12 years by 2030.
Replacing old Intercity carriages – Apart from its high-speed trains, DB Fernverkehr, the passenger subsidiary, still operates a large number of non-high-speed routes, such as Cologne-Hamburg, Hamburg-Berlin or Berlin-Dresden, for example. These routes are currently operated with tractor-drawn trains, whose carriages date from the great Intercity era of the 1980s and 1990s, before the arrival of high speed with the Siemens ICE. Despite numerous renovations, these Intercity cars are nowadays very old, and their comfort is no longer entirely in keeping with the times. Spare parts are becoming scarce and maintenance is becoming more expensive.
DB has therefore sought to replace these cars. The original name of the project was ECx, but in 2019, the name of the train was changed to ICE L. In its part, the manufacturer refers to the train units themselves as Talgo 230. The L standing for low-floor entry and would offer an improved sense of space, with shorter carriages, a new lighting concept and new interior design. The push-pull sets will have 17 coaches plus the loco, and according to Talgo will be the only ICE trainsets with platform-height boarding without steps, throughout the train. Each train set will have 477 second-class and 85 first-class seats. First deliveries are scheduled for 2024, with Vectron locomotives from Siemens, as the originally planned Talgo locomotive is not yet ready. The second order of 56 trainsets is expected to be delivered between 2026 and 2030.
(Source: Railway Gazette & Talgo) 🟧 [Back to page Germany]
Czech Republic

RegioJet wins tender to operate high-speed trains on the R9 Prague – Havlíčkův Brod – Jihlava/Brno line – 24/03/2023 – RegioJet has won its largest contract under tender in the Czech Republic. It is a mainline service R9 with twin destinations Prague – Havlíčkův Brod – Jihlava/Brno. The contract will be concluded for 15 years and is expected to start with the new timetable in December 2026. The link will have an alternating traffic flow with one train every 2 hours direct Prague – Havlíčkův Brod – Brno and one direct train every 2 hours Prague – Havlíčkův Brod – Jihlava.
16 per cent cheaper – According to the ministry's figures, RegioJet would have offered €208 million compared to the €247 million envisaged by incumbent operator České dráhy (ČD), a difference of 16 per cent, which is not insignificant. The transport services ordered represent a total of 2.78 million train-kilometres per year, or €4.99 per kilometre. The ČD still currently operate this route at €5.79 per kilometre. RegioJet said the transport ministry's decision to compete with the performance of the railways is proving to be the right one and saves public funds. « Users can look forward to new trains and better accessibility to the regional city of Jihlava, », said ministry spokesman František Jemelka.
From polish manufacture – The carrier will have to deploy new trains on a line with sections of up to 200 km/h. RegioJet's owner and founder Radim Jančura told Zdopravy.cz that the yellow company is counting on units from Polish manufacturer Pesa. In all likelihood, these would be Emus based on the DART model currently operated by PKP Intercity (picture above).
For RegioJet, this is the largest contract in the field of public service contract. « I am pleased that we have succeeded in winning such an important contract that will connect Prague and Brno. This is another step in our expansion and we are looking forward to the next tenders, », said Radim Jančura, the CEO of the private operator.
(Source: Zdopravy.cz) 🟧 [Back to page Czech Republic]
Italy

Up to 50 Stadler Eurolight Dual locomotives will join Trenitalia's fleet – 23/03/2023 – Stadler and Trenitalia have signed a framework agreement for the supply of up to 50 Eurolight Dual locomotives with a first call-off order for 13 units. The agreement also includes the full service maintenance of the locomotives for a period of 10 years, extendable to a further 5 + 5 years. The Italian national rail operator Trenitalia awarded Stadler the tender launched in 2022 for a 4-year framework agreement for the supply and maintenance of bi-mode (3kV DC + diesel) locomotives. These are machines for rescue purposes, which will be deployed throughout the Italian railway network for train rescue and pushing operations.
The Eurolight series was announced by Vossloh during 2009. The four-axle EuroLight was designed to have a low axle load for use on cross-border operations on non-electrified European secondary routes, enabling operators to bypass bottlenecks on main corridors. In comparison to the Euro serie (like the 6 axle's Eurodual, for example), a noticeable reduction in mass was achieved by the adoption of a lighter engine/alternator set, as well as using lighter weight auxiliary system components.
Trenitalia's Eurolight Dual locomotives reach a maximum speed of 160 km/h and are based on Eurolight 4-axle locomotive platform. As member of the Stadler's Eurolight family, these locomotives share with the rest of the platform the compact design and lightweight monocoque structure, as well as the latest bogie technology. They are characterized by high performance, low weight, and reduced axle-load that will not exceed 20 tonnes/axle, making them suitable for running on both main lines and secondary lines. They incorporate the ETCS B3R2/ SCMT / SCC safety systems and combine diesel and electric traction, allowing Trenitalia to use them throughout the entire Italian network – RFI.
The locomotives will be able to rescue up to two coupled ETR1000 trains on a 21 ‰ stretch, which represents the most unfavorable condition in Italy for this kind of operation. Innovative design features include regenerative braking with energy recovery, an efficient AC traction system with one inverter per axle providing a high level of redundancy and increased reliability, the HEP system to supply energy to the train, as well as the possibility to install either an UIC or an automatic coupler.
About this framework agreement, CEO of Stadler Valencia said: « We are very proud of this contract with Trenitalia. The Eurolight family of universal locomotives have a multitude of applications and can run on all types of lines. The innovative and cost-effective solution will provide environmentally friendly rail transport services and meet the demands of Trenitalia reliably, efficiently and productively ».
(Sources: Stadler) 🟧 [Back to page Italy]
Italy

Rather than being closed, a former marshalling yard will become an intermodal logistics platform – 21/03/2023 – Many marshalling yards in Europe are no longer in use, leaving only the largest ones (Maschen, Kijfhoek, Antwerpen-Noord, etc.). It is the same in Italy. But rather than closing them down or selling the land, some projects focus on a transformation. This is the case near the town of Alessandria, between Milan and Genoa. As a real railway crossroads (with the Bologna-Turin line), the oversized marshalling yard will become an intermodal logistics hub. The Masterplan, developed with 10% of the residual funds from the 2018 finance law, therefore aims to give new functions to the areas of the Alessandria Smistamento terminal belonging to Mercitalia Logistics, RFI and Trenitalia.
A joining effort between the various companies of the FS group and the local authorities concerned has been initiated to make Alessandria Smistamento (yard in Italian) a real intermodal hub for freight transport. A memorandum of understanding was signed in Alessandria to this effect. The project will be developed in two phases, with a total duration of 36 months. The first phase will end in December 2023 with the submission by Rete Ferroviaria Italiana (RFI, the infrastructure manager) of the technical and economic feasibility project for an innovative terminal, in order to define the costs and timetable for future interventions, depending on the evolution of traffic resulting from the construction of the 'Terzo Valico dei Giovi', a huge project underway to improve Genoa and Liguria's port connections with the main railway lines in northern Italy and the rest of Europe.
Subsequently, by December 2024, the Masterplan will be defined for the construction of an efficient, convenient and high quality modal interchange hub, capable of managing the flows of the different modes of transport in a coordinated and integrated way. The study presented in Alessandria aims to identify, in particular, effective solutions for the improvement of freight traffic in the ports of Savona and Genoa, as well as for the regeneration of the surrounding areas with a high potential for urban and intermodal development. The progress of the various activities will be monitored.
Furthermore, in the framework of a protocol signed in 2016, an additional 15 million euros were allocated for the implementation of the « Shared Project » for the development of the Piedmont territory. Thanks to this protocol, the 11 Piedmontese municipalities affected by the construction of the new line Terzo Valico dei Giovi will have additional funds to carry out infrastructure and tourism development projects on their territory.
(Sources: FS News) 🟧 [Back to page Italy]
Sweden

In Sweden, they don't want night trains with too short beds – 18/03/2023 – In Sweden, it is a state administration – Trafikverket – that will buy night trains and then lease them to operators. But a battle has been waged with some of the political powers because the planned carriages would have the European loading gauge and therefore « too short beds »! A loading gauge is a diagram or physical structure that defines the maximum height and width dimensions in railway vehicles and their loads.
The Swedish loading gauge – like the Finnish – is indeed wider than the rest of Europe (not to be confused with the width of the tracks, which has nothing to do here. Sweden have its railway network at 1.435mm, like in Europe).
The desire to buy 'European gauge' – although still at an early stage of the procedure – would be motivated by two elements: firstly to have the possibility of reselling the rolling stock. And secondly to have the possibility of also running in Europe if traffic grows, especially towards Germany.
Some politicians are lobbying for Trafikverket to also buy Swedish loading gauge cars, which would mean creating two separate fleets, thus increasing costs. It would be interesting to know if Snälltåget and SJ have received complaints about the length of the beds. Their night trains to Hamburg and Berlin are both made up of UIC coaches with European loading gauge. Have there been any complaints about the length of the beds, which is the same throughout Europe?
These are amusing details. Having visited Sweden in the summer of 2022, I didn't really see any extraordinarily large citizens. The sleeper cars currently on tracks in Sweden are not gigantic either. But it is understandable that when you have a generous railway loading gauge, why not use it…
(Source: Dagens Nyheter Ekonomi) 🟧 [Back to Sweden]
France/Italy

SNCF: the « Allegro » project to entry in the Italian market – 16/03/2023 – According to the French newspaper Le Parisien, the SNCF plans to export its low cost Ouigo TGVs model, to the Turin-Milan-Rome-Naples and Turin-Venice high-speed lines. Teams have been formed in the company's premises to work on a future project codenamed « Allegro ». The SNCF is expected to present its project on 26 April at a European Works Council (EWC), an internal body used to take decisions on international development.
This is obviously not a big surprise, as the SNCF had already indicated that it would eventually carry out operations in Italy similar to what it does in Spain. It was also a « response » to the arrival of Trenitalia on the SNCF's historical territory between Paris and Lyon.
A mention of services – In detail, there is a plan for nine return trips between Milan and Rome, two of which would connect to Turin and four to Naples. Four return trips would also be scheduled on the Turin-Milan-Venice route. Due to competition, a slight reduction is planned on the Paris-Milan route, from 3 to 2 return trips. If this number is confirmed, it would be a great offensive on a line that is already well travelled, with today 2/3 of the Rome-Milan services operated by Trenitalia's Frecciarossa and 1/3 with NTV-Italo's trains, which already has 11 years of experience in competition.
A subsidiary already in existence – SNCF already has a subsidiary company, SNCF Voyages Italia (SVI), to operate in Italy. The idea is to use this company, which already has a « Single Safety Certificate », the compulsory railway licence to operate on Italian tracks.
Rolling stock and marketing – One of the SNCF's particularities is to operate free access with the Ouigo concept. It is not yet known whether this name will be used for the new Italian service. The SNCF intends to repeat the air model with increased frequencies and aggressive pricing. In the Benelux markets, SNCF has kept the usual two-class TGV Thalys, soon to be merged with Eurostar. So here we remain in a more upmarket option. The same applies to Switzerland, where the TGV Lyria is also a more upmarket market and where the low-cost concept is absent. The rolling stock used for « Allegro » project will most likely be the new TGV-Ms being tested on the Velim test track in the Czech Republic. Alstom said that it was « a modular train » with a choice of seats. We can therefore expect single-class « capacity » versions of the trains as it has done in Spain.
The document consulted would indicate a need for 15 new trains, for a service that should only be delivered progressively between 2026 and 2028. This French initiative puts an end to any form of cooperation between the two historical companies, as was the case before 2011. But is this really a surprise?
(Source: Le Parisien) 🟧 [Back to France and Italy]
Belgium/Germany/Netherlands

Eurégio train project finally on track? – 14/03/2023 – It has been talked about for quite some time. The project, originally led by the province of Limburg via the operator Arriva, to link Maastricht, Liège and Aachen may finally be taking shape, if today's ministerial announcements are to be believed.
In 2018, Arriva hopes to start a train service in the so-called 'three-country triangle', i.e. Liège – Maastricht – Aachen. This would be an open access project, the exact legal details of which are not yet known. Arriva NL, the initiator of the initiative, is under concession from the Dutch province of Limburg (Maastricht). The project could not take place because Arriva NL's Stadler railcars were not equipped with ETCS. In 2022, tests were carried out in Belgium, this time with rolling stock that was in order.
In the meantime, Arriva NL had started a Maastricht-Aachen service in January 2019, pending the service to Belgium. Ironically, the ETCS-equipped Stadler railcars are an « unwanted » train for Germany in Aachen, which shows how difficult the approvals are. The service between the German city and the Dutch border is currently suspended. But it would only be a matter of weeks, we are reassured.
The « three-country train » will run every hour between Liege, Maastricht and Aachen. This will allow passengers to travel between the three cities without changing trains (there are currently connections between Liege and Maastricht and Maastricht and Aachen). « Passengers will now have more destinations, more comfort and fully accessible trains, and this beyond national borders », , explained Minister Gilkinet in a press release. « The fact that the different operators and the different political levels are working together so well to achieve this is a real breakthrough. »
The operational details are not yet known, however, as the press releases refer to « NS, SNCB and Arriva », perhaps indicating that all three operators will be involved, but with Arriva rolling stock? If this is indeed the case for Belgium, it would be the entry of a new manufacturer, the Swiss Stadler, which had never sold anything in Belgium and which can thus add « one more country » to its catalogue. Stadler rolling stock has long been present in Germany and the Netherlands. For the uninitiated, it should be remembered that the SNCB Desiros are Siemens and that they are banned in our two neighbours.
(Sources: Le Soir/Railtech.com) 🟧 [Back to page Belgium or to page Netherlands]
Norway

Contract signed: Stadler to supply new long-distance trains for Norway – 08/03/2023 – The state-owned company Norske tog and Stadler today signed a contract for the manufacture and delivery of 17 FLIRT Nordic Express. The contract includes an option for up to 83 additional vehicles. The new FLIRT Nordic Express are intended for long-distance transport throughout Norway from 2026.
In February, Norske tog announced the award of the contract for the manufacture and delivery of 17 single-deck FLIRT multiple units to Stadler. After expiry of the objection period, Stadler and Norske tog signed the contract today. With options, the order comprises up to 100 FLIRT Nordic Express including the initial order of 17 trains. Stadler will thus supply the latest generation of long-distance trains for use throughout Norway. The first FLIRT Nordic Express are expected to replace the old vehicles in the existing fleet on the Bergen Line from 2026.
High travel comfort – When developing the new trains, Stadler placed great emphasis on travel comfort – for both day and night journeys. The FLIRT Nordic Express offer seats that can be reclined on both sides, flexible sleeping compartments, bistro and family areas and ample space for luggage. Passengers can choose between sleeping compartments with reclining seats and sleeping compartments with two or four beds. During the day, the sleeping compartments can be converted into private seating areas for both families and business travellers. The reclining seats can be used both during the day and at night.
The new eight-car trains offer space for up to 542 seats and reach a maximum speed of 200 km/h. Depending on the area of use, the trains have an electric or bi-modal drive. The latter enables operation even on non-electrified lines. Like Norske tog's existing FLIRT fleet, the new FLIRT Nordic Express will be manufactured in Switzerland.
(Source: Stadler) 🟧 [Back to Norway]
Spain

16 billion euros to be invested in the Atlantic Corridor – 08/03/2023 – The Ministry of Transport, Mobility and Urban Agenda (Mitma) plans to invest more than 16 billion euros in the deployment and renovation of the Atlantic Corridor over the next few years, confirming the government's commitment to the future of a key infrastructure for Spain's economic and social development and connections with Europe.
This was announced on Monday by the new Spanish Secretary of State, David Lucas. The Atlantic Corridor is one of the priority corridors selected by the European Union for the purposes of cohesion and territorial development. It starts in Mannheim in Germany, passes through Paris and then branches off along the Atlantic coast in France, then into Spain, ending in both Sines and Leixoes in Portugal. Appropriately, the city of Zaragoza is included as a branch, as is the port of Algeciras.
« We are going to carry out new construction for more than 12 billion euros in order to achieve the objectives we have set, and we are going to carry out renovation work for almost 4 billion euros, because we want our networks to be in perfect condition, »explained the Secretary of State for Transport, David Lucas, during the presentation on Monday in Gijón.
The ministry has created a permanent delegation to work with civil society and the administrations so that the master plan, which will be presented in October, incorporates all the actions necessary to complete, extend and modernise the Atlantic corridor. This will involve monitoring and updating the state of the infrastructure and the policies of this government in alliance with Europe. The aim is to accelerate the deployment of infrastructure and its services in order to boost rail freight transport in Spain and connections with Europe.
The Atlantic Corridor crosses eleven autonomous communities in Spain (Asturias, Galicia, Castilla y León, the Basque Country, Navarre, Aragon, Extremadura, Madrid, Castilla y La Mancha, Andalusia and the Canary Islands). According to the latest extension proposal, it includes more than 5,300 km of track, forming approximately 2,660 km of lines. The total investment planned for the axis amounts to 49.406 billion euros, of which 33.326 have already been executed, or 30% since 2013. Currently, 16.08 billion euros are pending execution, of which 12.168 for new construction and the balance for renovation and modernisation.
Its development has and will have, according to the Spanish government, a « « direct and very positive impact on the eleven autonomous regions, which represent more than 65% of the Spanish population. If we analyse it through an economic prism, the Atlantic Corridor passes through and strengthens the autonomous communities, which currently generate around 778 billion euros of our gross domestic product (GDP).«
In addition to the electrification of the Salamanca-Portuguese border line and the construction of new terminals in several cities, other actions will be carried out to extend the sidings to 750 metres to allow the operation of trains of interoperable length (740 m).
(Source: MITMA) 🟧 [Back to Spain]
Netherlands / Great Britain

NS sells Abellio UK for good – 02/03/2023 – Dutch incumbent Nederlandse Spoorwegen (NS) has sold its UK subsidiary Abellio to the latter's management so that the carrier can again focus more on the Netherlands. The sale was concluded on Tuesday 28 February, NS reported in a message on its own intranet.
This decision marks the end of NS' presence in the UK, where the company has been active since 2003. Abellio UK has around 10,000 employees and provides rail services in the West Midlands, East Midlands, Greater Anglia and around Liverpool. Abellio buses also operate on a few routes in London. The subsidiary was also active in Scotland, from which it was ejected in April 2022.
For a long time, NS has been a major player in other European countries. In 2022, Abellio UK achieved a turnover of almost 2.5 billion euros, according to the latest annual figures. Together with the turnover of Germany (256 million), the NS thus generates almost as much income abroad through its subsidiaries as it does within the Dutch national borders (2.8 billion).
Despite this, profits in the UK (44 million) and Germany (2 million) were much lower than in the Netherlands (389 million). The government and the House of Representatives in The Hague therefore saw less and less benefit in foreign ventures and strongly asked the incumbent to focus more on the Netherlands. Both the railway company and the government as shareholder now believe that the activities should be geared primarily to the Dutch public interest.
In August 2022, it was therefore decided to sell Abellio UK to the British management. The sale took some time as the local authorities still had to give their approval. NS director Bert Groenewegen states on the intranet that he is satisfied with the sale « [which was undertaken] under difficult circumstances ».
Over the past twenty years, NS' foreign company has generated a lot of turnover, but it has also brought a lot of worries. Abellio has suffered significant losses in Germany, while the rail operator has been criticised in Scotland for not meeting some of its performance targets.
Abellio's German arm will remain in NS hands, as its ownership would contribute to cross-border rail services that the Dutch also use. NS still describes the German business as « strategically important » despite a withdrawal from certain markets. The sale will bring NS between €15 and €20 million.
(Source : nu.nl) 🟧 [Back to page Netherlands or to page Great Britain]
Germany

DB Cargo has already carried out 3 million tonnes of coal for German power stations – 01/03/2023 – It may not be the best news for the climate, but it is boosting rail traffic. Germany has indeed come through the winter well as far as energy supplies are concerned. DB Cargo AG has made an important contribution to this: German power stations have been supplied with almost 3 million tonnes of coal from October 2022 to date.
Due to Russia's suspension of gas deliveries to Germany, some of the power plants in reserve were reactivated last autumn and reconnected to the grid. In the meantime, DB Cargo AG has restored more than 1,000 coal transport wagons that were already on the scrap track to technical condition in its workshops.
Every day, DB Cargo trains carrie out an average of 30,000 tonnes of coal from the North Sea ports to around 15 large power station sites throughout Germany. This is double the volume normally transported. This enabled energy suppliers to ensure the country's supply of electricity and heat at all times. These « energy » freight trains were given high priority on the rail network by order of Berlin. There were no significant problems with the rest of the passenger rail traffic, as is often the case.
Sigrid Nikutta, Chairman of the Board of Management of DB Cargo AG, explains that « no one had anticipated this, but we implemented it quickly. With great commitment, we doubled the usual transport volumes for coal within a few weeks. The supply of power stations by DB Cargo is an important element of European energy security in times like these. ».
Ports of origin were mostly Rotterdam and Amsterdam, allowing fast routes to the power stations in southern Germany and Saarland. The supply of power plants continues according to the needs of the energy suppliers. In view of the current situation on the energy market, experts are currently forecasting the continued operation of power station reserves for the coming summer and winter.
(Source: Deutsche Bahn) 🟧 Retour à la page Germany
Great Britain

New British-built Hitachi trains on trial with Avanti West Coast – 28/02/2023 – Passenger operator Avanti West Coast has taken delivery of two units of their new British-built Hitachi trains. The designated class 805 sets have broken cover and made their first appearance on the West Coast Main Line.
Avanti West Coast is currently the concessionaire for the London-Manchester-Glasgow route, one of the country's largest flows. The company, which includes First Group and Trenitalia, currently operates with Class 395 Pendolinos commissioned twenty years ago by Virgin, which held the franchise at the time. The fleet also includes Class 220 'Voyagers' supplied by Bombardier. It is these that Avanti West Coast wants to replace.
The £350m order announced in December 2019 and financed by Rock Rail and Aberdeen Standard Investments includes 13 five-car Class 805 electro-diesel trainsets for the London to North Wales route and 10 seven-car Class 807 electric sets for services between London, the West Midlands and Liverpool.
Bi-mode train – The class 805 five-car bi-mode train, which can run under both electric and diesel power, undertook the 560-mile inaugural round trip from Alstom's Oxley depot in Wolverhampton, from where the trains will be maintained after they enter service, running out of London Euston. They'll be followed by seven-car all electric versions which will run all the way to Glasgow Central. The test run follows two months successful dynamic testing at Network Rail's Rail Innovation and Development Centre (RIDC) at Melton Mowbray.
On February 10, Avanti West Coast said the replacement of diesel-only Bombardier Transportation Voyager DEMUs would bring a 61% cut in the fleet's carbon emissions, along with lower noise, roomier interiors, more reliable wi-fi, wireless charging for electric devices and a real-time customer information system.
The 200 km/h non-tilting trainsets are being produced at Hitachi's Newton Aycliffe factory. The Oxley depot works under a joint train maintenance agreement between Avanti and Hitachi Rail. The new fleet is anticipated to enter service on the West Coast Main Line later in 2023. Freight operator GBRf had delivered the trains from the factory to the depot in November.
(Source: Railtech.com and Railway Gazette) 🟧 Back to Great-Britain
Norway

Alstom will supply 25 additional Coradia Nordic regional trains to Norske tog in Norway – 07/02/2023 – Norske tog awarded Alstom a new contract worth more than EUR 230 million to supply 25 six-car additional Coradia Nordic regional trains which are expected to enter services from 2027. Norske tog's new regional trains "Class 77" will operate as a commuter and fast rail service between Ski and Stabekk in the greater Oslo region. The expanding fleet of trains will ensure improved transport services throughout the busy region. « We look forward to receiving 25 additional trains from Alstom to improve capacity and services to the passengers » says Øystein Risan, CEO Norske tog AS.
The Coradia Nordic trains for Norske tog have been specially adapted to meet the needs of the Norwegian rail network and are fully suitable for Norwegian weather conditions. The new trains have a top speed of 200 km/h to ensure a swift and comfortable commute in a spacious and relaxing environment. Each trainset will consist of six single-deck coaches. The trains will be equipped with Alstom's digital ERTMS, a European standard onboard signalling system which provides trains with continuous safe movements and overspeed protection. This cab-signalling architecture removes the need for the driver to read lateral signals and provides onboard failsafe computer that pre-empt drivers actions in case of unsafe conditions. The trains will thus be capable of operating on both tracks equipped with the Norwegian legacy signalling system as well as on the new ERTMS-fitted tracks currently being rolled-out.
The Coradia Nordic is a state-of-the-art, low-floor, high-performance electric multiple unit. The standardised train is a single, versatile platform which meets demands of regional and intercity transport. A modular design allows operators to choose the configuration and interior that work best for their market and commercial strategy. The platform offers emission-free solutions such as battery or hydrogen for non-electrified lines. In addition, Alstom's sustainable approach to services considers the entire lifecycle of the product, from initial design to end of life, which will maximize the value of Norske tog's assets.
Alstom will assemble the trains for Norske tog at its site in Salzgitter, Germany. Several French Alstom sites are involved in the project, including Tarbes for traction systems, Ornans for the motors, Villeurbanne for signalling systems and Petit-Quevilly for electrical transformers. Norske tog AS is owned by the Norwegian Ministry of Transport and Communications. The company procures, owns, and manages rolling stock for passenger train transport in Norway.
(Source: Alstom) 🟧 Back to Norway
France

Private operator Le Train chooses Talgo for its future rolling stock – 24/01/2023 – Of the four candidates who wanted to operate train services in France, it is finally the company Le Train that is the first to take action. On 23 January, the Bordeaux-based company announced the acquisition of 10 Talgo Avril trainsets. In France, one of these trainsets – not intended for Le Train – is currently being approved, as Renfe wants to use this new train for its own operations. This approval will therefore be used for all trains, including those of Le Train.
This project comes from the south-west of France (Bordeaux, Aquitaine). The Paris-Bordeaux high-speed line has created frustrated people, » explains Alain Gertraud, the managing director. The city of Angoulême, in particular, does not benefit from enough services and the local councillors are dissatisfied. Le Train is now a small holding company with several subsidiaries, which may be companies that either own rolling stock or do maintenance.
The area targeted by Le Train extends mainly to the north of Bordeaux, with the Bordeaux-Nantes, Bordeaux-Tours and Bordeaux-Rennes lines. The company intended to acquire both second-hand and new rolling stock. It therefore chose Talgo trains for the new equipment.
Le Train, which is therefore a holding company, will acquire its own trains, with a 30-year maintenance contract. Maintenance will be carried out in a workshop that Lisea, the concessionaire of the Tours-Bordeaux high-speed line, plans to build in the Bordeaux region. The management of Le Train reports « serious discussions » with Lisea but has a plan B in case this does not work out.
The trains are planned to be single-class but with « greater comfort than low-cost » and the possibility of carrying around forty bikes. Clearly, the realisation of the Le Train project will give impetus to the other candidates, who all have different business models.
(Source: Mobily-Cités) 🟧 Back to France or Long distance
Netherlands

Private operator Arriva launches 'night train' to Schiphol Airport – 09/01/2023 – Don't look for sleeper cars or sleeping cars: there aren't any! This « night train » is written between inverted commas because it has nothing to do with its big brothers in Europe, such as the Nightjet of the ÖBB. What is it really? A Stadler Flirt multiple unit that the Dutch Limburg-based operator Arriva NL is putting into service on an atypical night journey from Maastricht to Amsterdam airport.
What is the purpose of this? To enable to air travellers to arrive at Schiphol in good time for the first flights, usually those departing at 6am and which involve arriving very early for the checks.
Open access – This train is a pure Arriva initiative. While this operator usually operates concessions under a public service contract, this 'night train' to the airport is a commercial operation at the operator's risk. In the outbound direction, this night train leaves Maastricht at 01:01 in the morning for Schiphol. On the way, it stops at the stations of Sittard, Roermond, Weert, Eindhoven, Den Bosch, Utrecht, Amsterdam Bijlmer Arena and Amsterdam Zuid, and finally arrives at the airport station at 03.15 hrs. It will then park at Hoofdorp before starting the return journey.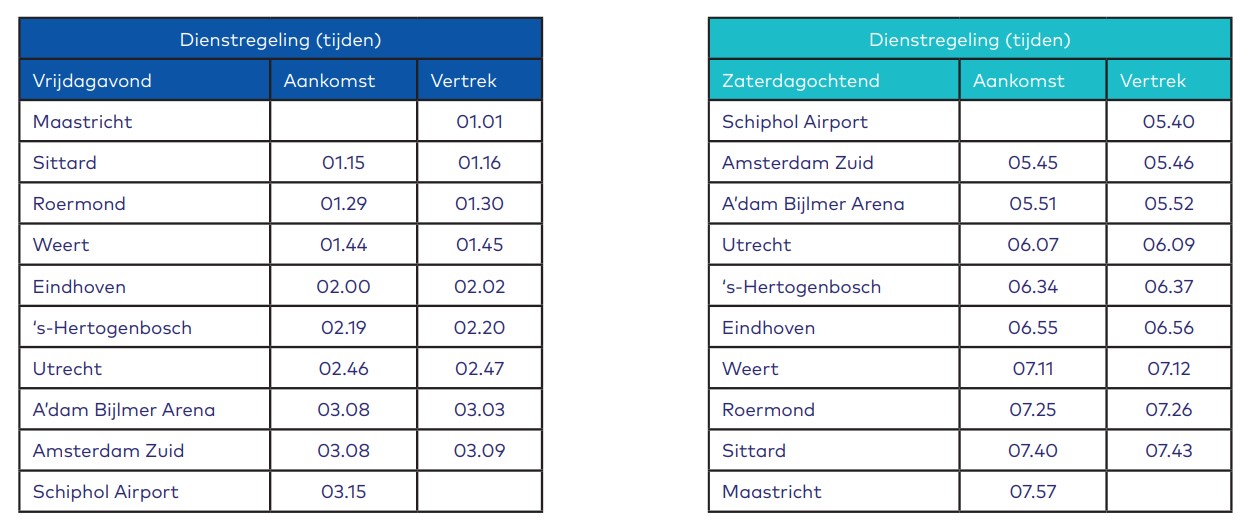 (Arriva NL)
The return journey is 'less nocturnal', in the sense that with a departure time of 5.40 am it should be considered the first morning train out of Schiphol Airport. The ticket for this night train has a fixed price of €10, regardless of the passenger's departure station. As this is an open access operation, the famous Dutch OV-chipkaart card, which is valid on all public transport networks in the Netherlands, does not work here. This ticket is only available via the Arriva gimble application. The traveller will then receive a QR code valid for the journey.
Fully permitted – Since last year, European legislation has allowed regional carriers to offer connections at their own risk. Indeed, regional traffic is in principle protected with the concession of the incumbent carrier NS. But the Consumer and Market Authority (CMA), found that Arriva's project did not undermine NS's concession, as it was carried out outside the incumbent's traditional hours. The business model was therefore not threatened.
Arriva is the first carrier in the Netherlands to make use of this legislation and in September 2021 the ACM officially announced that it had no objection to Arriva night trains from Maastricht and Groningen to the Randstad. Arriva intends to repeat the same scenario from the north of the Netherlands. A « night train » from Groningen is planned for January. It will be interesting to follow this initiative, as operating regional traffic at one's own risk is a rare occurrence.
(Source: Railtech.be) 🟧 Back to Netherlands or Commuters & regional
Belgium/Netherlands

European sleeper finally offers a start date for his Brussels-Amsterdam-Berlin service – 06/01/2023 – This time it's the right one! European Sleeper announced end December 2022 a specific date to start operating its Brussels-Berlin night train. As you may recall, in April 2021 the Dutch company European Sleeper decided to create a night train between Ostend, Brussels, Berlin and Prague. The route is rather atypical, leading to Antwerp, Rotterdam and Amsterdam, and vice versa on the return journey. A route that Infrabel granted by means of the requested train paths for the Belgian part. During the year 2022, the departure of this train was postponed several times and the project was reduced to a departure from Brussels rather than from the Belgian coast.
One of the reasons for this postponement was the acquisition of rolling stock. Although European Sleeper called on the Czech operator Regiojet for the technical side, the latter was only called in for the traction part in Germany and the Czech Republic and did not have any sleeping cars or couchettes to offer. In December, in a press release from European Sleeper, officials said that « we have almost secured enough cars on lease to start our first train of 2023, » without further details. And in the end, in the last days of December 2022, another press release indicated the date of the first service and the timetable. The trains will leave Brussels on 25 May.
The continuation of the route beyond Berlin is not yet certain. European Sleeper already reported that « due to track works south of Dresden, capacity has not been allocated to Prague for 2023. The German infrastructure manager is only planning one long-distance passenger train every two hours. So initially a Brussels-Antwerp-Amsterdam-Berlin route will be offered.
According to the website, the European Sleeper will offer three types of comfort: seating, sleeping berths and private cabins in sleeping cars. In sleeper cars, a single occupancy cabin is priced at €159. Sleeper comfort starts at €79, while a seat can be purchased for €49. A 10-car train set is planned to operate this Brussels-Berlin train three times a week. There is no dining car but breakfast is included in the price, according to the website.
Brussels, the hub of night trains? – This is something of a dream for the Belgian sector. The Belgian capital receives flows from Paris and London, and the Gare du Midi could be a hub of prime importance. It remains to be seen whether the projects will actually materialise, because until recently there was talk of linking the ski resorts in winter and Barcelona in summer. The night train to Malmö in Sweden is no longer on the agenda.
However, it will be interesting to see how European Sleeper's business model will perform. With ÖBB (for Vienna), a second night train will be running from Brussels. The ÖBB has announced that the Brussels-Vienna connection will become daily from December 2023.
(Source : various) 🟧 Back to Belgium or Netherlands or Long distance
By Frédéric de Kemmeter, Railway policy observer – Freelance railway contributing writer – Suscribe my blog – Back to latest news – See our oldest pages: 2021-2022/1 – 2022/2